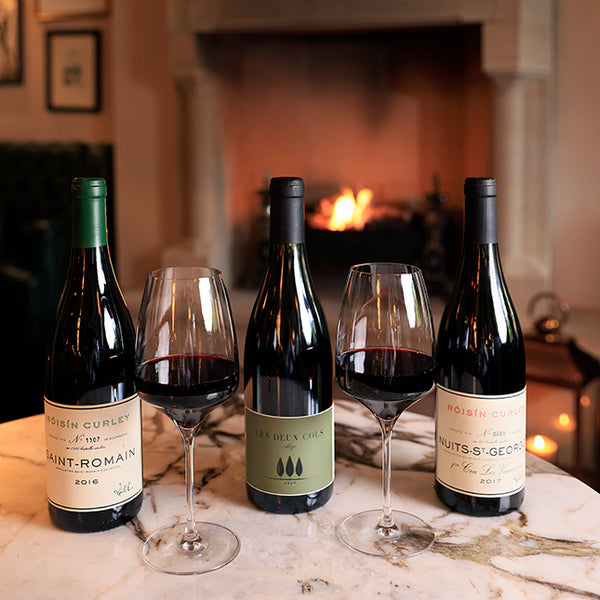 The Doyle Collection Irish Wine Geese Selection
This exceptional wine selection, personally curated by The Doyle Collection's Group Sommelier Philip Dunne, celebrates the Irish Wine Geese of the modern era.
Featuring Irish winemakers who have excelled in producing world-class wine over the past two decades, the collection includes two wines from Róisín Curley in Burgundy - the Saint Romain Blanc Chardonnay and Beaune Rouge Pinot Noir, and a signature red blend from Simon Tyrrell in the Rhône Valley.
Roisín Curley, Saint Romain Blanc Chardonnay

Roisín Curley, 

Beaune Rouge Pinot Noir
Simon Tyrell, Cuvée d'Alize (Signature Blend, of mainly organically grown Grenache and Syrah)
The term "Irish Wine Geese" is derived from the flight of the "Wild Geese" in the late 17th century, when persecuted Catholic Jacobite soldiers fled Ireland, seeking refuge and a safe home in France. Many of these soldiers and their immediate descendants flourished as merchants and traders, later gaining ownership of properties, estates and vineyards around the port of Bordeaux. Today, the Irish influence on vineyards globally continues this pioneering tradition.
Róisín Curley, originally from Ballyhaunis in County Mayo, spends her time between the West of Ireland and Burgundy, France. Róisín holds a BSc in Pharmacy and an MSc in Viticulture and Oenology. In 2015, she created her first vintages of Pinot Noir and Chardonnay in Burgundy, and in 2020 became a Master of Wine, one of approximately 400 individuals in the world to hold this prestigious title.
Simon Tyrrell, based between Kildare and France, is widely known for his Cuvée d'Alize wine made in the Côtes du Rhône. A blend of mainly organically grown Grenache and Syrah, this wine has been a firm mainstay on the wine list of The Westbury for several years.
Candles:
Candles are available for delivery to Ireland, the UK and throughout Europe. Unfortunately candles are not currently available for delivery to the US.
Alcohol:
Delivery of all alcohol products is only available within the Republic of Ireland.
All other products:
All other products are available for delivery to Ireland, the UK, throughout Europe and the US.
US customers:
Please be aware that you may be required to pay customs charges upon delivery to a US address.